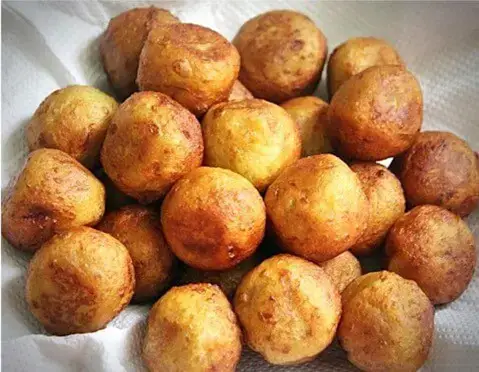 PARISIAN APPLES HOUSE: the easy recipe
The Parisian apples, or apples à la Parisienne, are a variant of hazelnut apples, prepared with a Parisian apple spoon, kitchen utensil with the look of a spoon that allows you to create small balls of vegetables or fruits.
Its handle, rounded for a firm grip, carries a cutting hemisphere that the user rotates in the flesh of the vegetable or fruit. There are several diameters ranging from 1 to 3 cm. Some teaspoons, however, make excellent substitute Parisian spoons.
Level of difficulty: easy
Preparation time :

20 min
Rest time : -
Cooking time :

40 min
Total time :

1h
Ingredients:

6 people
400 g of potatoes
2 c. to s. olive oil
salt and pepper
Preparation:
Peel, wash and mop the potatoes. Dry them well.

Make as many balls as possible with a Paris spoon.

Preheat oven to 200 ° C.

Put the meatballs in a large bowl.

Add the oil, season and stir well to soak up the fat.

Spread on the baking sheet with baking paper.

Bake in grill position.

Fry the pellets for about 35 to 40 min.

Return to mid-cooking.

Go out and serve.

To taste!